This post contains referral links which means that if you purchase from one of my links, I will receive a small percentage of the sale.
I was searching Etsy for products for my
Mother's Day Etsy Finds
post when this necklace from a shop called Gutsy Goodness caught my eye.
Having been recently diagnosed with
Ehlers Danlos Syndrome
, which is often referred to as an invisible illness, the necklace struck a chord with me. Although I have Ehlers Danlos, I still have hope. Hope in God. Hope for the future. Hope that by the time my children are older, the doctors will know more about treating this awful genetic disease.
I ordered the necklace and messaged the owner to let her know how much I liked it. She responded and over the course of several convos on Etsy, we got to know each other.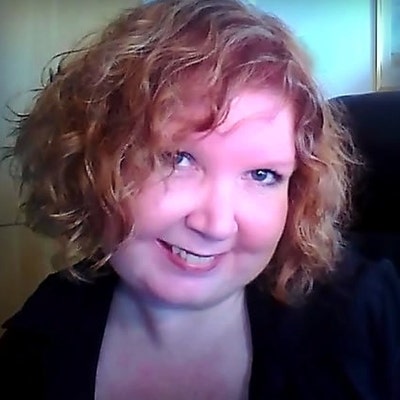 Lisa Copen, owner of Gutsy Goodness
The owners of Gutsy Goodness are Joel and Lisa Copen. In 1993, Lisa was diagnosed with rheumatoid arthritis and within a few days, she could hardly use her hands. Thankfully though, she can still use a mouse and is able to design each piece for her family's Etsy shop by herself.
Lisa is the creator of
Invisible Illness Week
which has the goal of raising awareness for invisible illnesses. She is also the founder of
Rest Ministries
, a Christian ministry that reaches out to those with chronic and invisible illnesses.
"I love getting to use my creative side, designing the layout and message of each necklace," she shares. "And then I pass them along to my husband to do the logistics."
Joel and Lisa opened their shop in 2015 after Joel was laid off from his job. Their 13 year old son, who they homeschool, helps with the shop occasionally as well.

"It has been fun for my son to see the logistics behind a business. From keeping supplies in stock to understanding advertising costs, he is learning some unique skills." And their son is learning how a family comes together to help pay the bills and how to work as a team for a mutual goal.
Gutsy Goodness has continued to grow and be successful and the Copens attribute it to all to God.
With Joel's help, Lisa assembles each piece at the 1940s green aluminum table that she inherited from her prayer warrior grandmother when she passed away in the late 1990s.
"
Every time I visited my grandmother her Bible sat open on this table," Lisa explains. "This table was her 'war room.' If you have seen the movie War Room, well, my grandmother's prayers are 'baked in' to this table and I can imagine she is smiling seeing God's Word go out to thousands of people from where she prayed and served meals for those she loved."

"I believe the Word never returns empty and it is my hope that every piece glorifies God," Lisa says, "even if it just about never giving up."
Gutsy Goodness carries necklaces, pendants, keychains, and more with beautifully designed inspirational sayings on each one. It can be found on
Etsy
and
Amazon
.
Lisa and Joel were kind enough to offer a coupon code for 15% off everything in their
Etsy shop
. The code is "SUNSHINE15" and expires on July 31st, 2016.
Follow Gutsy Goodness
Which design from their shop is your favorite?